"I feel less anxious and stressed. My focus has definitely improved and I am able to be more in the moment and think with a clear head" - Laurel P
"I feel less anxious and stressed. My focus has definitely improved and I am able to be more in the moment and think with a clear head" - Laurel P
100% Vegan
GMO free
Made in UK
GMP approved
View full details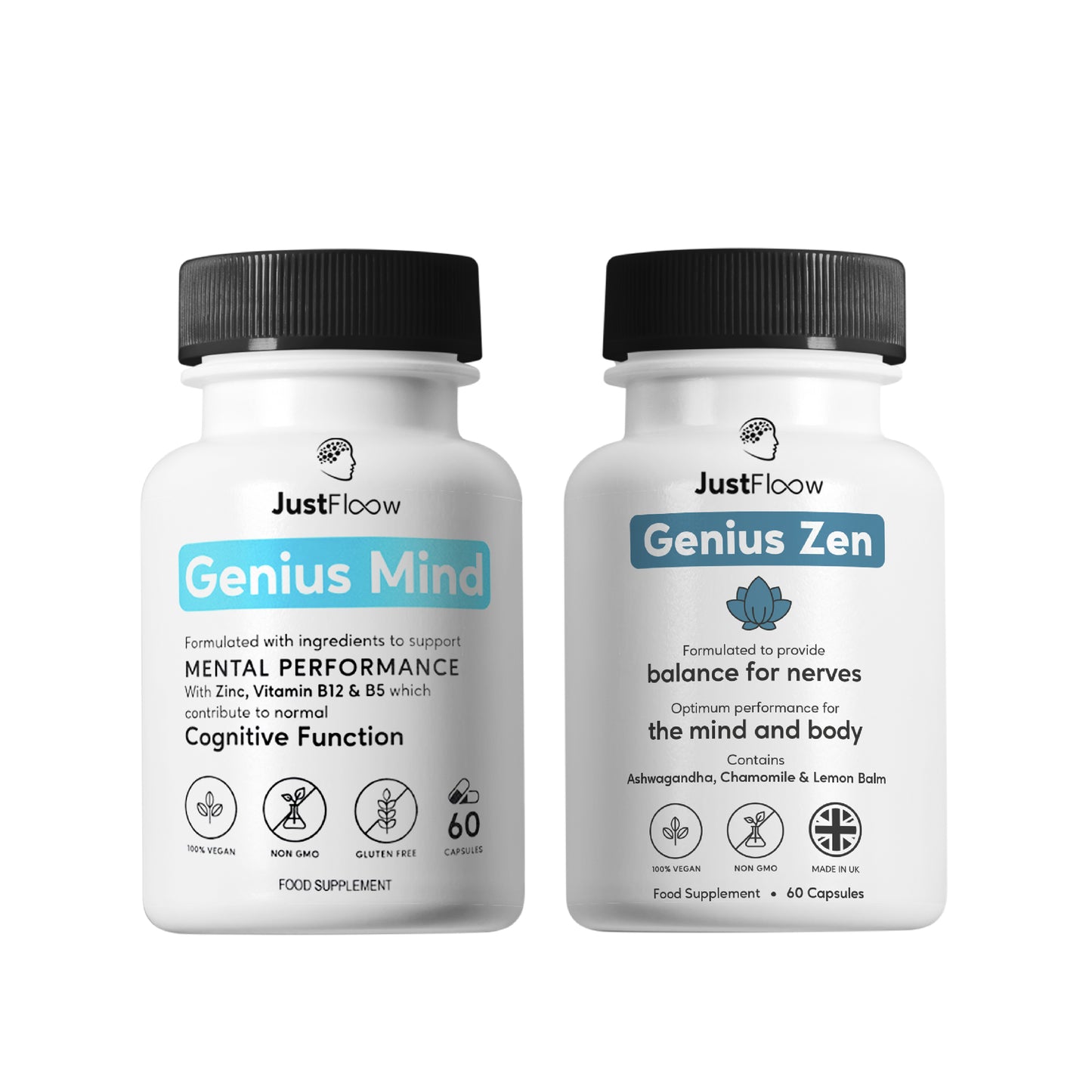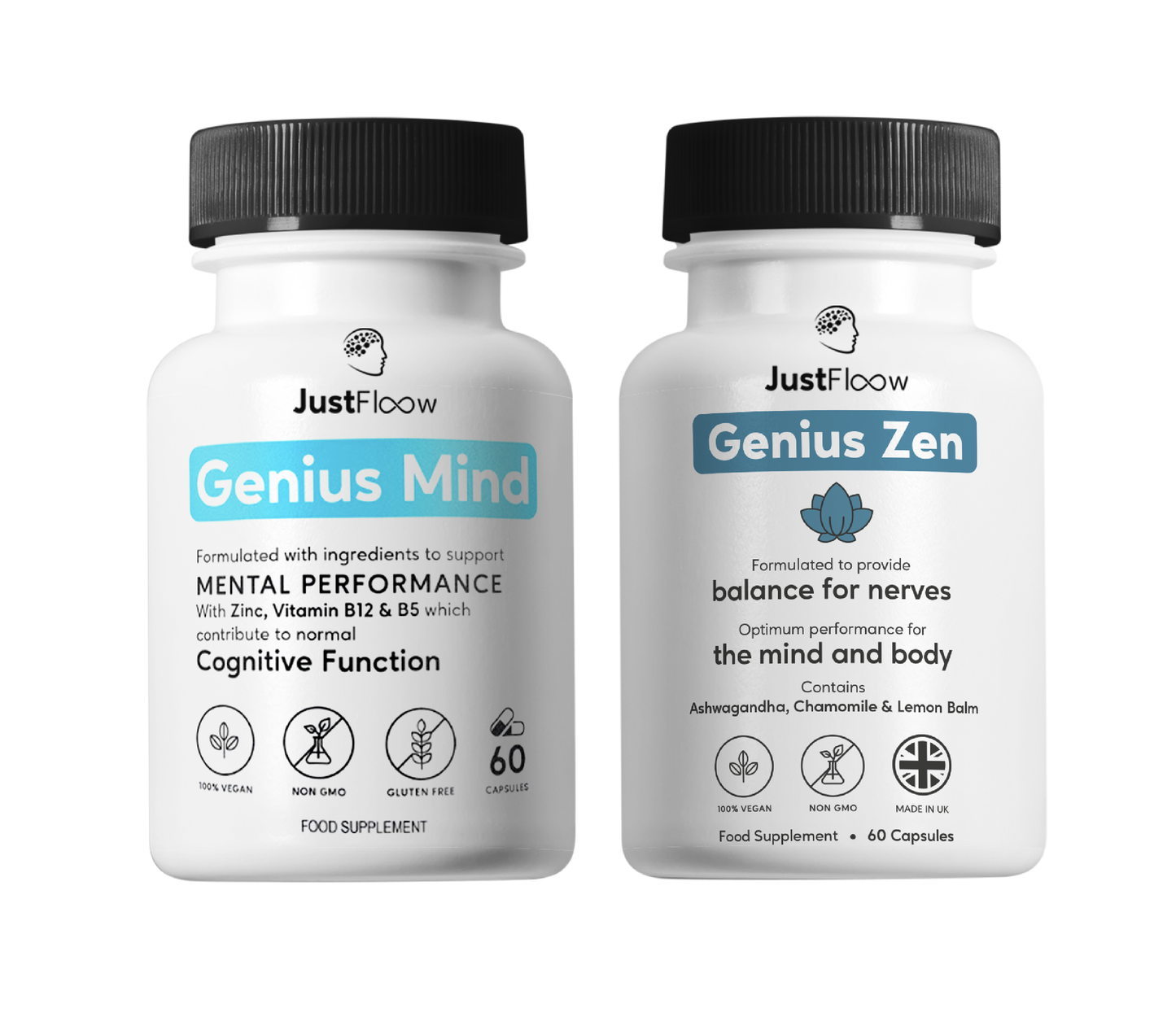 The Bundle Benefits
Encourage a state of calm
Assist with your daily mood
Promote enhanced mental health for relaxation
Support a healthy lifestyle with improved serotonin production
Optimise focus and productivity
Improve clarify and focus
The benefits of this bundle

Encourage a state of calm

Assist with your daily mood

Promote enhanced mental health for relaxation

Support a healthy lifestyle with improved serotonin production

Optimise focus and productivity

Fuel for your brain

Improve clarify and focus

Operate at a high level

Gives you the edge

Elevate your thinking

What's in this bundle

1 X Genius Mind

1 X Genius Zen

Vegan-friendly, gluten-free, and non-GMO. Proudly made in a GMP-approved facility in the UK.

Ingredients

Genius Mind:
Phosphatidylcholine (Soya), Phosphatidylserine (Soya) DMAE Bitartrate, Guarana Seed Powder, Zinc Citrate, Tyrosine, Nicotinamide, Lions Mane 4:1 Extract, Sage Leaf 4:1 Extract, Pyridoxine Hydrochloride, Calcium D-Pantothenate, Bacopa Monnieri 11:1 Extract, Panax Ginseng 20:1 Extract, Rosemary 5:1 Extract, Thiamine Hydrochloride, Ginkgo Biloba 50:1 Extract, Vitamin B12 (Methylcobalamin)

Sleeping Genius:
Magnesium Citrate, Glycine, L-Theanine, Chamomile Flower, Hop 4:1 Extract, Montmorency Cherry, Lavender Flower, 5-HTP (from Griffonia Seed Extract), Ashwagandha Extract (1.5% Withanolides), Lemon Balm 4:1 Extract, Avena Sativa 10:1 Extract, Chromium Picolinate

Note: Consult a medical doctor before taking this or any other nutritional supplement if you are pregnant, nursing, have or suspect a medical condition, or are taking any medications. Store in a cool dry place.

When do I take this?

Genius Mind: We recommend taking 2 capsules a day, approximately 1 hour before taking on a mentally-challenging task.

Sleeping Genius: We recommend taking 2 capsules at night 1 hour before going to bed.
Optimise your 24 hours so you can rise and outshine every day.

Genius Mind, our natural brain supplement, supports your focus and concentration during the day.

After a productive day working toward your goals, Sleeping Genius natural sleeping supplement, will help you unwind and calm your body and mind for a restful night's sleep.

shop now

From feeling in the zone to feeling the zen.

This super duo is the perfect combination to support brain function, cognitive health, and help maintain a healthy mood and sense of calm.

shop now
What makes this bundle

standout?

Contains scientifically proven brain supporting ingredients

Vegan, Gluten free and non GMO

Made in the UK in GMP approved facility

Formulated by expert nutritionists

Safe for long term use and is non habit forming

Stay calm, cool and centred right when you need to be
Subscription benefits
Month 1
You've joined the JustFloow community and your journey to be the best version of yourself has begun!
This is the first step to a more focussed mind.
Month 2
After 30 days, you'll start to notice small improvements in your daily mood and ability to focus.
With a stabilised mood your productivity may also start to increase.
Month 3
From 3 months onwards, you'll really find your flow.
With regular use, you'll feel in the zone. Cool, calm and collected - ready to conquer any task.
Flexible plan
Huge monthly savings
Free shipping
Cancel anytime
Frequently asked questions
How do I take Genius Mind and Genius Zen?
Genius Mind: 2 x daily, with or without food. Can I take more than 2 capsules daily? No need, the recommended dose is 2 x capsules a day.
Genius Zen: Take 1 capsule about an hour before bed or you may also take one additional capsule during the day for those extra stressful days.
Can I take Genius Mind and Genius Zen with other medications?
If you're looking to take Genius Mind and Genius Zen with other non-JustFloow products or with prescription medication, we recommend checking in with your doctor to make sure it is compatible with your current regimen or medications.
Can I overdose on certain ingredients?
Genius Mind and Genius Zen are safe to be taken together with no overdose concerns.
JustFloow's supplements are formulated to work together to optimise the body and mind. We recommend checking in with your GP or doctor when starting a new regimen regardless to make sure it makes sense for you and your health.
Are these Vegan friendly?
Yes this is Vegan Friendly as well as Gluten-Free
How does combining these supplements help me?
Genius Mind and Genius Zen have a complementary mixture of ingredients to support brain health, support concentration & focus and encourage a state of calmness.
After how long does it take to notice any results?
How quickly this bundle works depends on everyone's unique body, health, genetics, diet, etc., therefore everyone will respond slightly differently. It can take anywhere from 2-6 weeks before you see lasting results.
In the flow
I take this first thing in the morning it helps me get it the zone