Genius Zen
"Outstanding product. Very effective . I take it daily before heading to work. It helps me go into the office with a clearer head and it definitely increases my productivity ." - D Hughes
"Outstanding product. Very effective . I take it daily before heading to work. It helps me go into the office with a clearer head and it definitely increases my productivity ." - D Hughes
100% Vegan
GMO free
Made in UK
GMP approved
View full details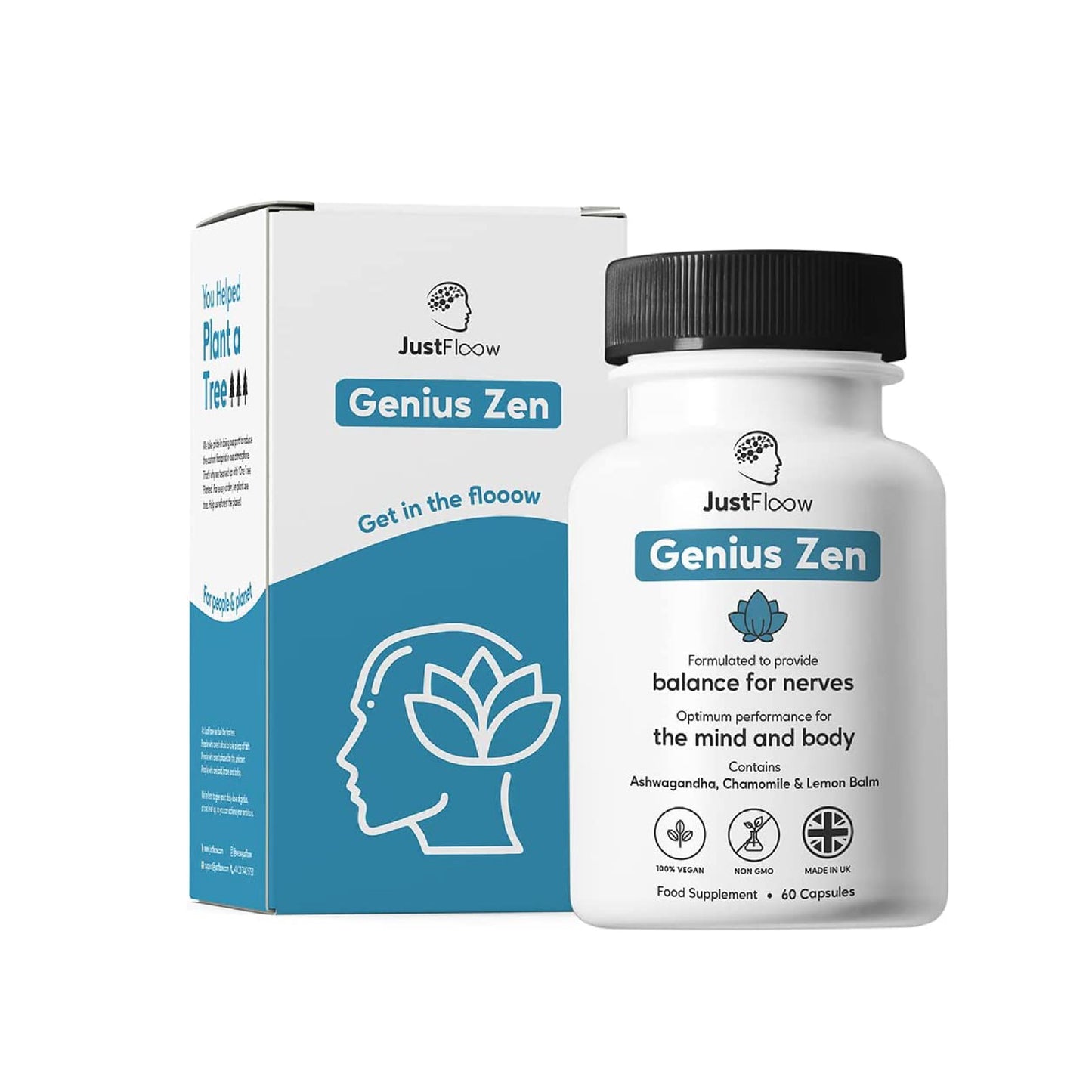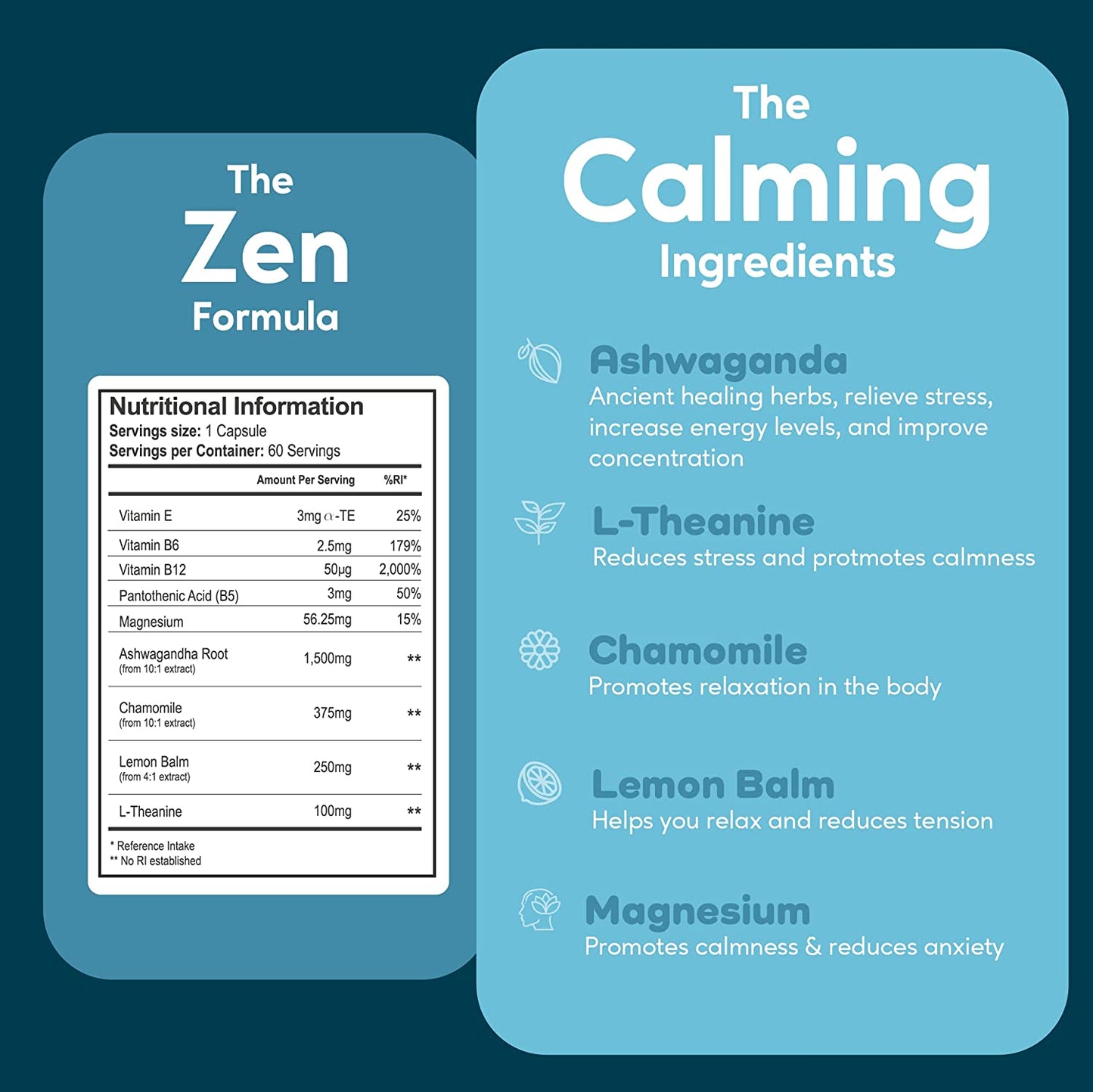 The Key Benefits
Genius Zen's natural formula is designed to:
Meet the calmer you
Encourage a state of calm
Improvedserotonin production
Assist with your daily mood
Optimise rest for better focus and productivity
Genius Zen's natural formula is designed to:

Improve your serotonin production

Promote enhanced mental health for relaxation

Encourage a state of calm

Assist with your daily mood

Optimise rest for better focus and productivity

How are we different?

Calming the mind: L-Theanine and Magnesium help reduces stress and anxiety, as well as promotes calmness

Steady energy flow: Ashwagandha has a whole host of benefits: Increase overall energy levels, relieve stress and improve concentration.

Promote optimal relaxation: Chamomile and Lemon balm helps relax the body and mind

Unique proprietary blend: Genius Zen is formulated by leading UK nutritionists and contains 9 scientifically backed ingredients that support stress level and promotes calmness.

100% natural, Gluten Free, NON GMO & Vegan Friendly

Safe for long term uses

Why we made this?

Discover peace and unwind after a stressful day at work. These natural stress and anxiety relief supplements stabilise your mood and let your mind reach that state of zen.

Genius Zen is expertly designed to support a more peaceful state of mind. Don't get us wrong, this isn't a miracle cure, it should rather be used as a holistic approach to take care of your mental and physical health.

Vegan-friendly, gluten-free and non-GMO. Proudly made in a GMP-approved facility in London, UK.

Ingredients

Ashwagandha Root 10:1 Extract, L-Theanine, Magnesium Oxide, Lemon Balm 4:1 Extract, Chamomile 10:1 Extract, Vitamin E (DL-Alpha Tocopheryl Acetate), Anti-Caking Agent (Magnesium Stearate), Calcium D-Pantothenate, Pyridoxine Hydrochloride, Vitamin B12 (Methylcobalamin)

When do I take this?

We recommend adults take one capsule in the evening 1 hour prior to sleep. You may also take one additional capsule during the day for those extra stressful days.

Nutritional facts
Bring

peace

to your life and turn down the chaos.

Take a deep breath and embrace the calm.

Find your inner zen with our stress relief supplements. Genius Zen® is like a smile in a bottle.

BUY NOW
What makes Genius zen

standout?

Contain scientifically proven zen supporting

Vegan, Gluten free and non GMO

Made in the UK in GMP approved facility

Formulated by expert nutritionist

Safe for long term use and is non habit forming

Help you stand apart with brain boosting benefits
The
calming
ingredients
The calming
ingredients
Ashwagandha
Traditionally used in Ayurvedic medicine to reduce stress and promote overall well-being. It is believed to work by regulating the activity of the stress hormone cortisol in the body and by inhibiting the production of the neurotransmitter GABA, which promotes feelings of calm and relaxation
L-Theanine
Has been shown to increase levels of the neurotransmitter GABA, which is involved in the regulation of mood and anxiety. It may also increase levels of serotonin and dopamine, which are neurotransmitters that are involved in mood regulation.
Magnesium
Play a role in regulating mood and reducing feelings of stress and anxiety. Magnesium can also help to relax muscles, which may contribute to a feeling of physical and mental relaxation.
Lemon Balm
It has a long history of use in traditional medicine and is thought to have a number of potential health benefits, including its ability to reduce stress and anxiety.
Chamomile
A herb that has been used for centuries to help with stress and anxiety. It is believed to have a calming effect on the mind and body, and it is often used to help with sleep and relaxation
Vitamin E
Some research suggests that vitamin E may help to reduce the effects of stress on the body by decreasing the production of stress hormones, such as cortisol. It may also help to improve mood and reduce feelings of anxiety and depression.
Vitamin B5
Also known as pantothenic acid, is a nutrient that is involved in the production of hormones and neurotransmitters that are important for maintaining a healthy stress response. It may help to regulate the production of the hormone cortisol, which is released in response to stress, and may also be involved in the synthesis of neurotransmitters such as serotonin and dopamine, which are involved in mood regulation and stress management.
Vitamin B6
B6 is part of the process involved in making neurotransmitters like serotonin and GABA, a B6 deficiency can cause mood drops and changes.
Vitamin B12
Needed for the production of serotonin, a chemical responsible for regulating mood.
Subscription benefits
Month 1
You've joined the JustFloow community and your journey to be the best version of yourself has begun!
This is the first step to discovering your inner zen.
Month 2
After 30 days, you'll start to notice small improvements in your daily mood.
With a stabilised mood your productivity may also start to increase.
Month 3
From 3 months onwards, you'll feel in a more peaceful state of mind.
With regular use and a healthy lifestyle, you'll discover your inner zen.
Flexible plan
Huge monthly savings
Free shipping
Cancel anytime
Frequently asked questions
How long does it take for Genius Zen to work?
From surveying 104 people that's taken Genius Zen® for the first time 95% of people felt stronger and more energised within the first week when taking Genius Zen®. However, we recommend to give it at least 3 months for all the ingredients to take full effect
What are Genius Zen side effects?
There are no known side effects, if you notice any side effect please stop taking it right away and contact your healthcare professional.
What's the best time to take Genius Zen?
Adults, as a dietary supplement, take one capsule in the evening prior to sleep. A serving of one capsules may be taken during the day for occasional stress support
Is Genius Zen Vegan friendly?
Yes this is Vegan Friendly, Gluten free and NON GMO
How long does Genius Zen effect last in the body?
The effects lasting vary from person to person and depend on your lifestyle and diet.
If you take it consistently and maintain a healthy lifestyle and diet, you should feel the effect longer. In most cases, it should last around 6 - 8 hours.
Note this is a natural supplement so that it won't have the same immediate impact as a prescriptive medication.
Can Genius Zen calm my anxiety?
The short answer is YES.

Genius Zen® is the evolution of calming supplements. Genius Zen® leverages the power of today's greatest anxiety relief ingredients into a synergistic, smartly formulated supplement that calms the mind.
To ensure that our formula reaches its full potential, Genius Zen® uses best-in-class ingredients, cutting-edge forms and nutritional breakthroughs.
It's important to note that some issues may be chronic where Genius Zen® will not be able to help. In this case it's important to speak with a healthcare provider as other treatment may be required.
What can I take naturally for anxiety?
There are several natural remedies that may help to alleviate symptoms of anxiety. It is important to note that while natural remedies may be beneficial for some people, they should not replace professional medical treatment if you have been diagnosed with an anxiety disorder.
Here are some natural remedies that may help to reduce anxiety:
Exercise: Regular exercise can help to reduce stress and anxiety levels by releasing endorphins, the body's natural feel-good chemicals.
Mindfulness and relaxation techniques: Practices such as yoga, meditation, deep breathing, and progressive muscle relaxation can help to reduce anxiety by promoting relaxation and reducing muscle tension.
Herbal remedies: Some herbs, such as chamomile, valerian root, and passionflower, have been traditionally used for their calming properties.
What deficiencies cause anxiety?
Anxiety is a complex mental health condition that can arise due to a combination of genetic, environmental, and psychological factors. While there is no single deficiency that causes anxiety, certain deficiencies may contribute to or exacerbate anxiety symptoms.
Here are some deficiencies that have been associated with anxiety:
Vitamin D: Low levels of vitamin D have been linked to anxiety and depression in multiple studies. This may be because vitamin D plays a role in regulating mood and neurotransmitter function.
Magnesium: Magnesium deficiency has been linked to anxiety, as magnesium plays a role in the regulation of the stress response and the production of serotonin, a neurotransmitter that helps regulate mood.
Omega-3 fatty acids: Omega-3 fatty acids are essential for brain health and have been shown to have a beneficial effect on mood disorders such as anxiety and depression.
Zinc: Zinc deficiency has been associated with anxiety and depression, as zinc plays a role in regulating the stress response and neurotransmitter function.
B vitamins: The B vitamins, particularly vitamin B6, B9 (folate), and B12, play a crucial role in the production of neurotransmitters that regulate mood and stress response.
It's important to note that deficiencies alone are unlikely to cause anxiety, but they may contribute to or exacerbate symptoms in individuals who are already prone to anxiety. If you are experiencing anxiety symptoms, it's essential to speak with a healthcare professional to determine the underlying cause and develop a treatment plan.
Zen State
Felt just like the product name, felt more calm and relaxed in general, placebo or not it certainly helps me
Love this product!
Really like the feel of this product. Very easy to swallow and I felt a calming presence within the hour. I have it after a meal and with my herbal tea. I'll be buying again, highly recommended!
Genius Zen
I give these to my husband and he stays out of trouble
Good product
I finished 1 bottle it works for me very good but it just a bit expensive so I try another brand same ingredient but it doesn't work for like this product so I guess I'm staying with this product for a while I'm gonna order
I felt so calm and relax when taking this product. Highly recommended
I felt so calm and relax when taking this product. Highly recommended
It works.
This will definitely put your mind at ease. I take 2 mid-day and then sometimes 1 at night. I advise you NOT to take it right before bed because I have done it in the past and although it made my mind stop racing, I could not fall asleep. if you're going to take it at night, try to take it around 4 hours before you go to bed.
Amazing support
A very good supplement during this stressful time I am going through.
These work well for me
I take one when starting to feel the stressful day coming on top of me, I don't know if it is in my mind or these work,,,,but I feel a lot calmer after these have had enough time to get in the system, helps me more relaxed for studying my OU degree at home.
It helps
This helps, but you have to take it daily
Amazing result
This is great if you want to naturally reduce any anxiety you may have. I've used it consistently for 1 week now and already seeing some great results.