"I feel much stronger and focused when working out. Absolute game changer, definitely elevated my workout to another level." - Alan L
"I feel much stronger and focused when working out. Absolute game changer, definitely elevated my workout to another level." - Alan L
100% Vegan
GMO free
Made in UK
GMP approved
View full details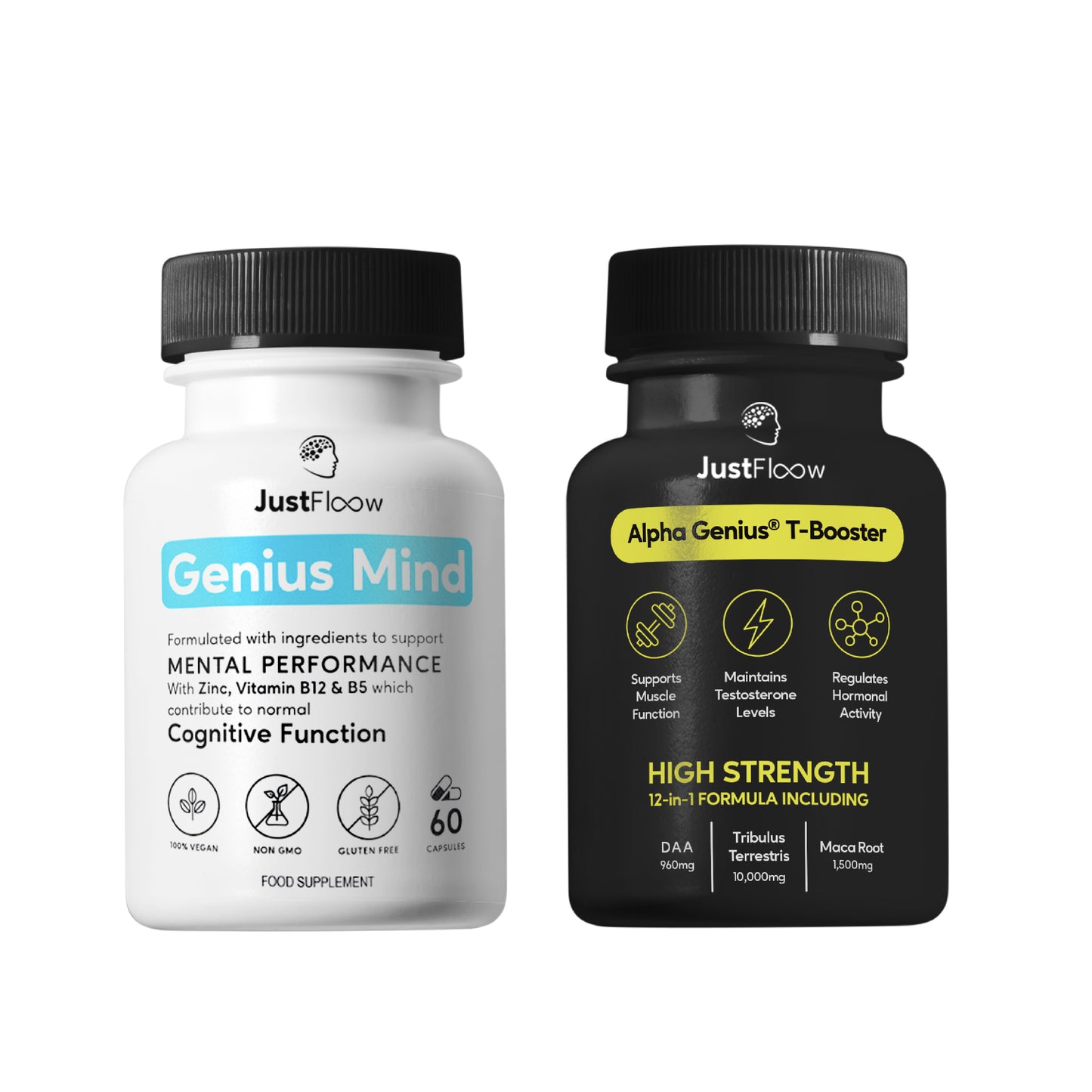 The Bundle Benefits
Aid in post-workout recovery
Support your strength, stamina & endurance
Promote healthy fertility
Encourage stable blood pressure
Improve clarify and focus
Speed up your reaction times
The benefits of this bundle

Aid in post-workout recovery

Support your strength, stamina & endurance

Promote healthy fertility

Encourage stable blood pressure

Improve your muscle gain

Improve clarify and focus

Operate at a high level

Speed up your reaction times

Elevate your thinking

Fuel for your brain

What's in this bundle

1 X Genius Mind

1 X Alpha Genius

Vegan-friendly, gluten-free, and non-GMO. Proudly made in a GMP-approved facility in the UK.

Ingredients

Genius Mind:
Phosphatidylcholine (Soya), Phosphatidylserine (Soya) DMAE Bitartrate, Guarana Seed Powder, Zinc Citrate, Tyrosine, Nicotinamide, Lions Mane 4:1 Extract, Sage Leaf 4:1 Extract, Pyridoxine Hydrochloride, Calcium D-Pantothenate, Bacopa Monnieri 11:1 Extract, Panax Ginseng 20:1 Extract, Rosemary 5:1 Extract, Thiamine Hydrochloride, Ginkgo Biloba 50:1 Extract, Vitamin B12 (Methylcobalamin)

Alpha Genius:
D-Aspartic Acid, Tribulus Terrestris 20:1 Extract (95% Saponins), Maca Root 10:1 Extract, Fenugreek Seed 4:1 Extract, Ginger Root 20:1 Extract, Caffeine Anhydrous, Zinc Citrate, Ashwagandha Root 10:1 Extract, L-Selenomethionine, Pyridoxine Hydrochloride, Vitamin D3, BioPerine® Black Pepper Extract

Note: Consult a medical doctor before taking this or any other nutritional supplement if you are pregnant, nursing, have or suspect a medical condition, or are taking any medications. Store in a cool dry place.

When do I take this?

Genius Mind: We recommend taking 2 capsules a day, approximately 1 hour before taking on a mentally-challenging task.

Alpha Genius: We recommend taking 3 capsules daily with a full glass of water 1 hour before a physical activity
What makes this bundle

standout?

Contains scientifically proven brain supporting ingredients

Vegan, Gluten free and non GMO

Made in the UK in GMP approved facility

Formulated by expert nutritionists

Safe for long term use and is non habit forming

Push your full potential and feel ultimate energy
Subscription benefits
Month 1
You've joined the JustFloow community and your journey to be the best version of yourself has begun!
This is the first step to pushing yourself to the limit.
Month 2
After 30 days, you'll start to notice improvements in your energy levels. You'll start to push yourself further, react quicker and feel more focused
You are starting to level up.
Month 3
From 3 months onwards, you'll really start to see results.
With regular use you'll feel at your peak - bigger, faster and focussed. An optimized version of yourself.
Flexible plan
Huge monthly savings
Free shipping
Cancel anytime
Frequently asked questions
How do I take Genius Mind and Alpha Genius?
Genius Mind: 2 x daily, with or without food. Can I take more than 2 capsules daily? No need, the recommended dose is 2 x capsules a day.
Alpha Genius:Take 3 capsule about an hour before a physical activity.
Can I overdose on certain ingredients?
Genius Mind and Alpha Genius are safe to be taken together with no overdose concerns.
JustFloow's supplements are formulated to work together to optimise the body and mind. We recommend checking in with your GP or doctor when starting a new regimen regardless to make sure it makes sense for you and your health.
Are these Vegan friendly?
Yes this is Vegan Friendly as well as Gluten-Free.
How does combining these supplements help me?
Genius Mind and Alpha Genius have a complementary mixture of ingredients to support energy levels, concentration, strength, stamina and overall endurance.
Can I take Genius Mind and Alpha Genius with other medications?
If you're looking to take Genius Mind and Alpha Genius with other non-JustFloow products or with prescription medication, we recommend checking in with your doctor to make sure it is compatible with your current regimen or medications.
Effective
Been taking this for a month now and can certainly feel the effect
Upgrade my subscription
I added alpha genius into my subscription order it helps so much in the gym and combinbing it with genius mind it works like magic
Super power
when I take these two together I feel super energise